Learn More About Me
Biography
My current employer provides print and online advertising for small and medium businesses throughout the United States. Their products include websites, banner and search products that appear on YP.com, Yahoo! Advertising Network, search engines (including Google and Bing) and many more outlets.
My main areas of expertise include web design with Photoshop, Illustrator and/or Flash, followed by development with HTML and CSS. I pride myself for my attention to detail, from colors and fonts to cross-browser coding.
Experience
Designer – Quality Team
YP Holdings (formerly AT&T Advertising Solutions)
April 2013 – Present
Collaborate with product management team on for new products
Design mockups for the new product
Develop websites based on approved mockups with HTML5 and CSS3.
Product Manager – Premium Websites
YP Holdings (formerly AT&T Advertising Solutions)
July 2012 – April 2013
Oversaw 37 new premium website productions on a monthly basis from initial consultation to launch which includes composition, design, proofing and mobile development.
Tracked issues with support team using WebsPlanet CMS; Monitor staff performance and their current life cycles via Salesforce and Dashboard online analytics application.
Led revenue–producing website 2.0 launch. Contribution generated $29M in overall website sales in 2012
Increased yearly revenue by maintaining a cycle time average of 35 days (lower than the 40 days limit by YP) from July 2012 to present
Retained high-spend advertising clients by directing team escalation process. Swiftly resolve at-risk customer concerns to prevent churn
Assisted premium consultants with design and development questions
Lead Designer – Premium Websites
YP Holdings (formerly AT&T Advertising Solutions from May 2012)
June 2011 – July 2012
Designed mockups for Premium websites with Photoshop - up to one a day, two or three a week, 12 to 15 a month
Developed websites based on approved mockups with HTML, CSS (including CSS3 for gradients, rounded corners, multiple backgrounds, drop shadows, etc.) and jQuery or Flash for animation
Integrated websites with WebsPlanet CMS
Assisted Premium Product Manager to ensure websites went live within 40 days or ahead of scheduled launch date
Facilitated Premium website and 960 grid training for designers; Approved and set specs
Lead Designer – Plus Websites
AT&T Advertising Solutions
January 2011 – June 2011
Blueprinted layouts for 8-page or less and client editable websites with Photoshop and/or Illustrator
Developed Plus websites with HTML, CSS and jQuery or Flash for animation
Modified existing Plus websites and assigned new website work to other Plus designers
Introduced 960 grid system to facilitate website completion within 8 hours
Completed quality testing on the WebsPlanet CMS and logged trouble tickets for issues
Guided Change and Escalation designers on Essential and Enhanced training
Designer
AT&T Advertising Solutions
July 2005 – January 2011
Developed well-designed and error-free websites using tables instead of CSS for layouts
Completed modifications to existing websites, including redesigns
Coached both in-house and vendor designers
Skill Set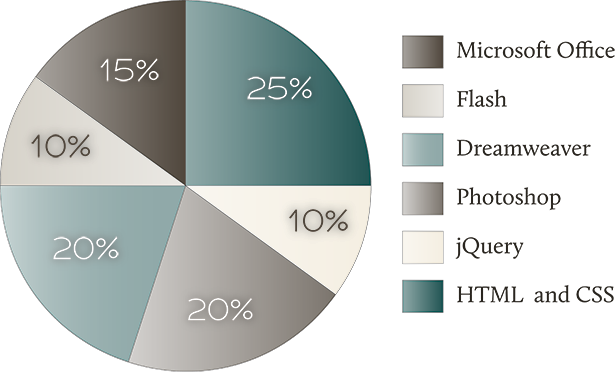 My skill set includes HTML and CSS (including HTML5 and CSS3), LESS Preprocessor for CSS, JavaScript, jQuery, Photoshop, Illustrator, Flash, Dreamweaver and Komodo IDE. I also have some management experience as a Lead Designer.
Education
Art Institute of Atlanta
2000 – 2005
Bachelors of Fine Arts
Web Design and Interactive Media